Every student has the goal of obtaining a high grade in university. The end of term is when the institution discloses results and AIOU Degree verification takes place. Candidates who succeed will be granted degrees. These qualifications are extremely valuable, but their cost is increasing. Degree verification for AIOU is a long procedure that will be explained in this article.
All passed students need to wait for 2 to 3 weeks after applying for allama iqbal open university sanad or degree so they can get it stamped and verified. After that they will post it on your address that you have given to university.
AIOU Degree Verification Full Procedure & Check Tracking
After taking Allama Iqbal Open University's course, you must get an degree from them and verify it. Without this process its will be difficult for you to get any job or benefit from your Degree. By the way if you are looking for aiou tutor address then can find on our site.
Aiou degree tracking can also be checked online through the verification portal. You must have a few documents in hand before you go for that step.
Here are exact steps to track aiou degree verification process: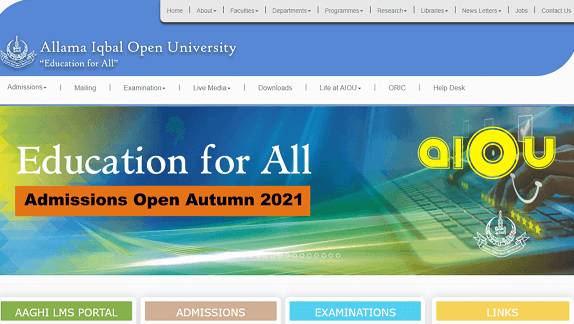 Now Click on Examination and then online services . This will go to a sub menu of Degree Tracking system. Click on that option.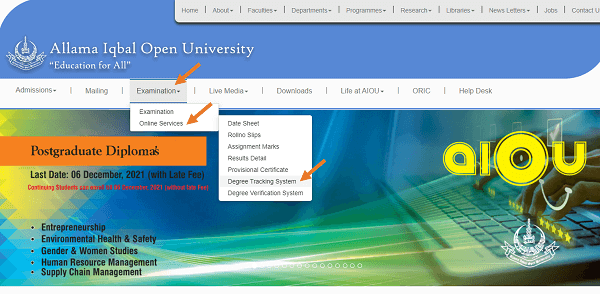 A new screen of tracking system will open where you will be shown two options. Incomplete/Returned Applications and In Process Applications. click on both of them one by one and see if your application is incomplete / returned. If not then it should be in process of verification.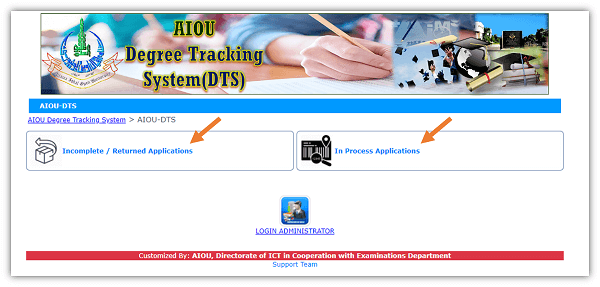 If you click on Incomplete / Returned Application option then next screen will ask you to enter your roll number for status of application. Enter your Roll number in correct format and then click search. If its in this criteria then it will be shown here with mistakes you have done. Correct them and re submit.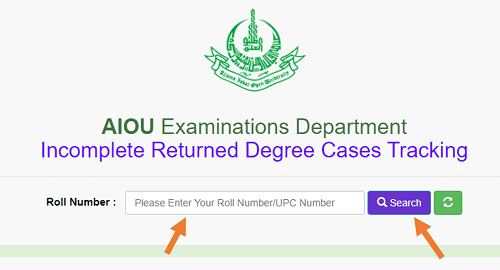 If your status is not shown here then good news is that your application is is process of verification and it will take some time. Just to make sure click on second option of In-process applications and put your Roll no or tracking ID on next screen. You will see the process here.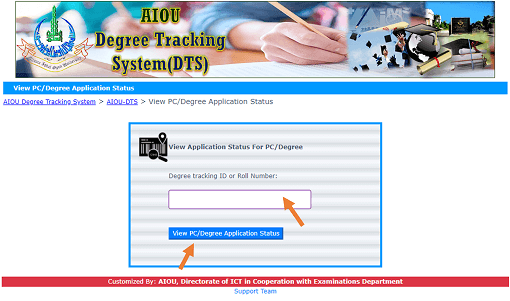 Step by Step Process On How to verify AIOU degree
To begin with, obtain aiou degree verification form. If you have access to the internet and a printer, go to Allama Iqbal Open University's official website and look for the option of degree verification on the website.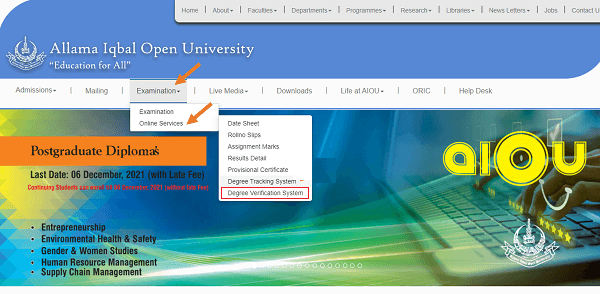 On this new screen you can put your roll number and check for verification process.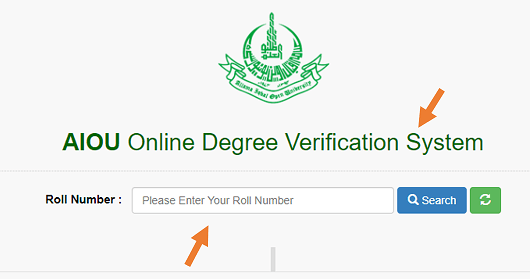 There is another notification on this screen where everything is explained in details.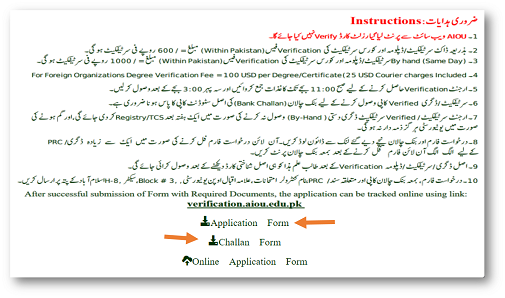 As you can see above that clear instructions are given and in urdu as well in case if you have hard time understanding English. Fee will be 600 rupee for certificate verification and for urgent its 1000 rupee. Download links are also given on this notification for Application Form and Challan Form.
Where to Download Degree Verification Challan Form and Application Form
Although the links are provided in official website but here we will also give you direct links so you can easily download bank challan form for fee submission and application form for process.
Contact Details of AIOU degree verification Department
Main Campus Address : Ashfaq Ahmed Rd, H-8/2 H 8/2 H-8, Islamabad Capital Territory 44000
Exam department email: controller.exam@aiou.edu.pk
Phone Number: 051-2528962 / 9250012, 9057310
Contact Number for Branch: 051-2528962