The Allama Iqbal Open University (AIOU) conduct examinations across a range of months every year for Matric, FA, FSC, Bachelor, and Master's degrees. The AIOU date sheet for spring and autumn 2022 exams will be published soon.
The country's first distance learning institution, not just in Pakistan but also in the subcontinent, is proud of this university. Because they are not only handling thousands of students from all across Pakistan but also thousands of students from across the world. Operating an open university with distance learning system is a difficult task. Overseas students will also get aiou date sheet 2022 soon.
ScholarshipIdea is dedicated to keeping you informed about the date sheets for all programs of Allama Iqbal Open University, and we provide you with the most up-to-date information on this page as we do with other news updates.
If you're a student, or just want to learn more about Aiou, please sign up for our reader panel to stay up to date on the latest news.
We ensure to provide the most up-to-date paper schedule of the current examinations, which will be held in many cities around Pakistan. The SSC level final examinations are prepared for students. Secondary School Certificate papers are only presented by this educational institution in Pakistan, although other BISE boards in Punjab, Sindh etc will conduct in different stations.
AIOU Date Sheet For Masters MA/Msc, BA/BSc,FA/Fsc & Matric
Are you looking for Aiou Matric, FA or bachelor date sheet at the Aallma iqbal open university? You will be astonished to discover that here, you may get anything for free without wasting your time on internet searching. Past papers, notes papers, and aiou admission fee information and latest scholarships are all available in the ScholarshipIdea. We also provide previous papers, notes papers, and all aiou admission details.
Exact Steps to Get Date Sheet Online PDF Version
If you are still not able to get Aiou datesheet spring our autumn 2022 FA, Matric , BA or MA/MSc, B.ed & M.ed then here are exact steps to do so: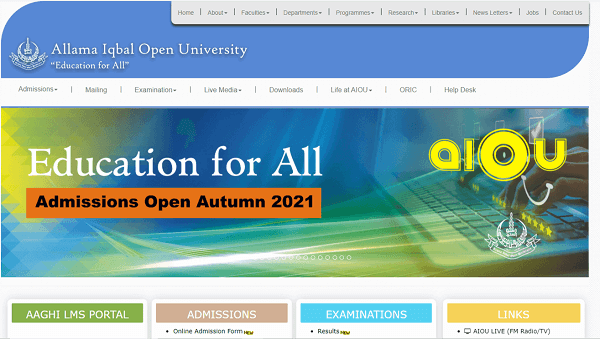 Now Click on Examination and Online services then Date sheets as shown below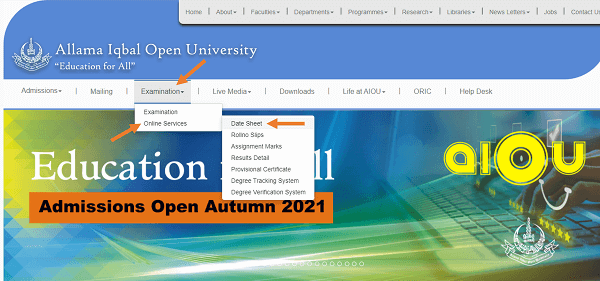 On the next screen just pick your program in which you are enrolled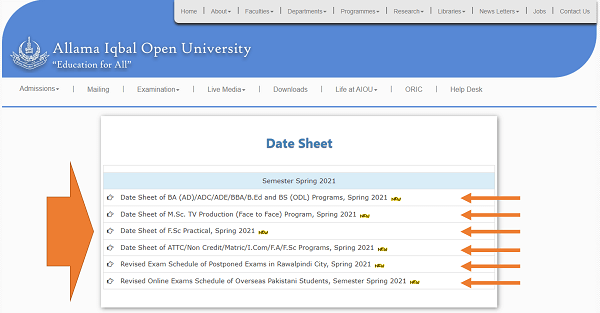 Full HD image will open in another tab and you will see complete date sheet.
Make sure you have access of your Roll No slip so you can see all other details of exams.
Download Full AIOU Exams Date sheet of Current Year (BA, MA Islamiat , B.Com etc)
Normally, the two-year program is announced in January, and the date sheet is published in November or December, which concludes the yearly session. But this time due to Pandemic it was too much delay for all universities so it effected AIOU as well.
The COVID-19 effect was devastating on studies, yet the university was able to keep running its offline system as well as an online portal. That's one of the advantages of distance learning; you don't have to endanger your health for long, so there are no chances of ending up on campus and attending classes and risking for corona positive.
When it comes to tech, most people know how to use and surf the internet for fresh exams datesheet and information. It won't be an issue for them to obtain information, yet there is a little fraction of those who don't go online very often so for them its hard to get proper exams information for autumn and spring exams. Here is a list of Datesheets by roll no for you to download:
| Program | Instruction by Roll No |
| --- | --- |
| Date Sheet for Matric (9th/10th) | Download Latest DateSheet |
| Date Sheet for FA/FSc | Download Latest DateSheet |
| Date Sheet for BA/BSc | Download Latest DateSheet |
| Date Sheet for Commerce (ICom, B.Com) | Download Latest DateSheet |
| Date Sheet for Masters (MA Islamiat, English, Urdu) | Download Latest DateSheet |
Exmination Department Contact Information
Here is the information of Allama Iqbal Open University Exam department Head incase you need any help:
Deputy Controller of Exams
Tel: 051-9250051 or 051-9057648
Email : conduct.Exams@aiou.com.pk
Hope you are able to find your date sheet but if not just comment below and we will find it for you.